MVYRADIO's COMMUNITY OUTREACH PAGE
---
COMMUNITY CONTENT on MVYRADIO
Noli Taylor is the Senior Programs Director for IGIMV and a member of the Island Climate Action Network. Noli is passionate about Food Security/Waste Management and all things environmentally friendly forward. In this segment, she speaks of Climate Action Week from May 8th through May 14th, 2022. A full schedule of events is planned throughout the Island all week long, from aquaculture, Coast Guard and farm tours, films, exhibitions, and informational events to a climate action concert at the Ritz. A finale event Saturday, May 14 at the Grange will include an electric vehicle parade, and music - including a song written and performed by Molly Conole (with Mark Lovewell) just for the occasion! - food, student talks, children's activities, lots of climate action information, and a presentation on the MV Climate Action Plan. Local climate change impacts include sea level rise, more flooding and stronger storms, plus hotter weather, more rain, and also more drought. All these impacts are affecting our health and well-being, the natural world, the built environment, and the Island economy.
Radio Games
Introducing Radio Games with Perry Dripps - talks and sharing for kids at the West Tisbury Library. What will happen: Learn about your voice and how to use it. Have fun with sound effects. Listen to music on vinyl. Learn how to interview and to record your voice. Join us Thursdays from 3:30 - 4:30.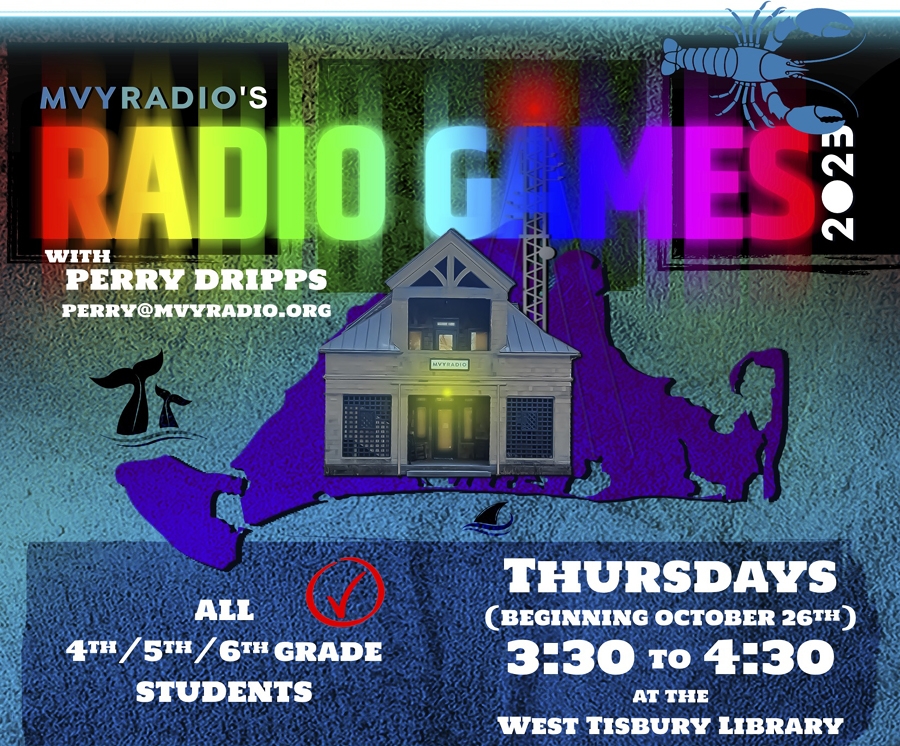 ---
CLIMATE ACTION PLAN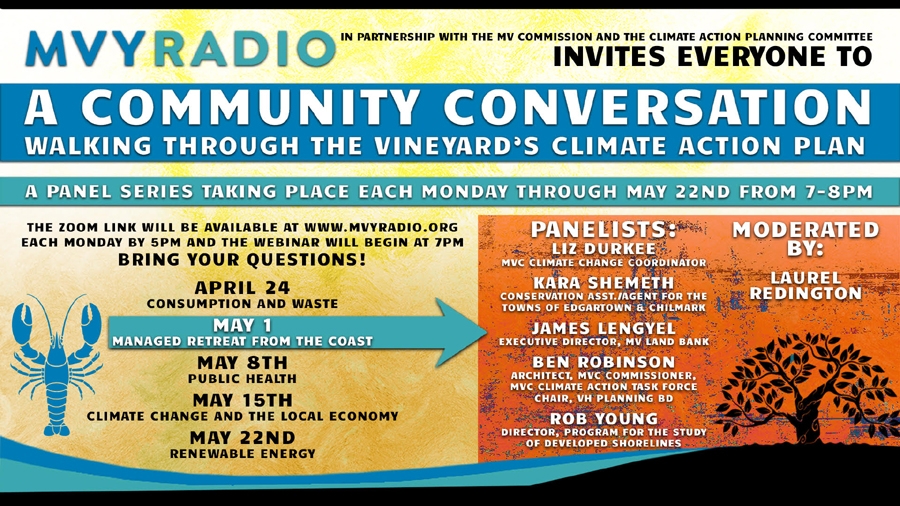 Laurel Redington moderates a community discussion about the Vineyard's climate action plan. Watch this page for community meeting videos! The Climate Action Plan Series is sponsored by Cape Light Compact, Falmouth Marine, Northern Trust, Sea-Dar Construction and Property Management, Sea Tow Cape & Islands and Sea Tow Rhode Island, and Zoe & Company Professional Bra Fitters.


---
2022's ISLAND HOUSING CRISIS SERIES
MONDAY MARCH 7th:
Introduction to the Housing Crisis and The Coalition To Create the MV Housing Bank – Impact on Social Determinants of Health


MONDAY, MARCH 14th:
Impact on Critical Island Systems – Employment Crisis – Municipal and Private Employment


MONDAY, MARCH 21st:
Impact on Elders and Youth




MONDAY, MARCH 28th:
Impact We Can Make – Essential Components to Solving Our Housing Crisis


---
COMMUNITY CONVERSATIONS


LISTEN TO THIS PSA IN BRAZILIAN PORTUGUESE:

The On Island Subcommittee of the Martha's Vineyard Substance Use Disorder Coalition is seeking volunteers with extensive grant writing experience. Our hope is to find experienced persons who are familiar with the island and its particular struggles. Volunteers must be familiar with federal, state, and private funding streams for Substance Use Disorder, or have a strong background in program evaluation. This would be an unpaid position with a weekly time commitment of 5-10 hours. The goal is to build a critically needed funding stream for Coalition projects through federal and state grants. Interested parties should respond to: info@mvsud.org
---
MVYRADIO Summer Youth Music Series 2021
MVYRADIO's 8th Annual Summer Youth Music Series showcased young talent, as well as sets from a few mentors that had either been through the program or worked with the program over the years. Mentor concerts include Dana Williams, Alo Ver, and Aquinnah Wampanoag artist Nanauwe. Concerts in 2021 were featured on our Facebook Page and the homepage of MVYRADIO.org

7.15.21 - Aloe Ver

7.22.21 - Brendan Kelso

7.29.21 - Nanauwe Vanderhoop

8.5.21 - Three Mandareens

8.12.21 - Aiden & Brian Weiland

8.19.21 - Rains Draper

8.26.21 - Emmett Athearn & Atlas Zack

These concerts were made possible thanks to underwriting support from Bugg's Place Toys on Main Street Hyannis and a Grant from Cape Cod 5's Community Engagement Foundation
---
COMMUNITY VIDEOS
MV Social Justice
MV Social Justice from Martha's Vineyard Productions on Vimeo.
Laurel Redington interviews Steve Ewing about the creation of the VINEYARD TARTAN

Laurel speaks with Dr. Joe Smyser CEO of Public Good Projects.



LET'S DO BETTER: A Racial Equity Conversation Series
During the month of February 2021, Laurel Redington moderated a series of free zoom conversations on Racial Equity. Panelists aimed to inform, inspire and challenge attendees to DO BETTER, and remind us that Every Voice Makes An Impact. See the recordings below.
2.1.21 Realities of Racism - RECOGNITION
2.8.21 Realities of Racism - SYSTEMIC RACISM
2.15.21 Realities of Racism - GENERATIONAL PERSPECTIVES
2.22.21 MOVING FROM REFLECTION TO ACTION

SUMMER YOUTH MUSIC SERIES 2020
Normally held on the deck of the Aquinnah Library, this concert series is supported by a grant from MV Bank's Charitable Fund. In Summer 2020, Laurel worked with teens to create virtual concerts, due to COVID-19 restrictions.
ROBERT HANJIAN
ALO VER
DANA WILLIAMS
BELLA GIORDANO
ERA OF GOOD FEELINGS
---
MVYRADIO in the Community
As a non-profit, independent, local radio station, we take our commitment to public service seriously. That's why, in 2017, longtime MVYRADIO employee Laurel Redington became our full-time Community Outreach Director.

Laurel's job is to make sure that the various constituencies and communities in our broadcast area are represented on our station. You can hear those voices on programs like Person Of The Week, The Vineyard Current, The Cape Cod Current and Night Casts.

Our Community Outreach extends beyond the airwaves. You may find Laurel teaching students at the public Charter School, or running the station's Youth Music Series, or Chairing our Community Advisory Board.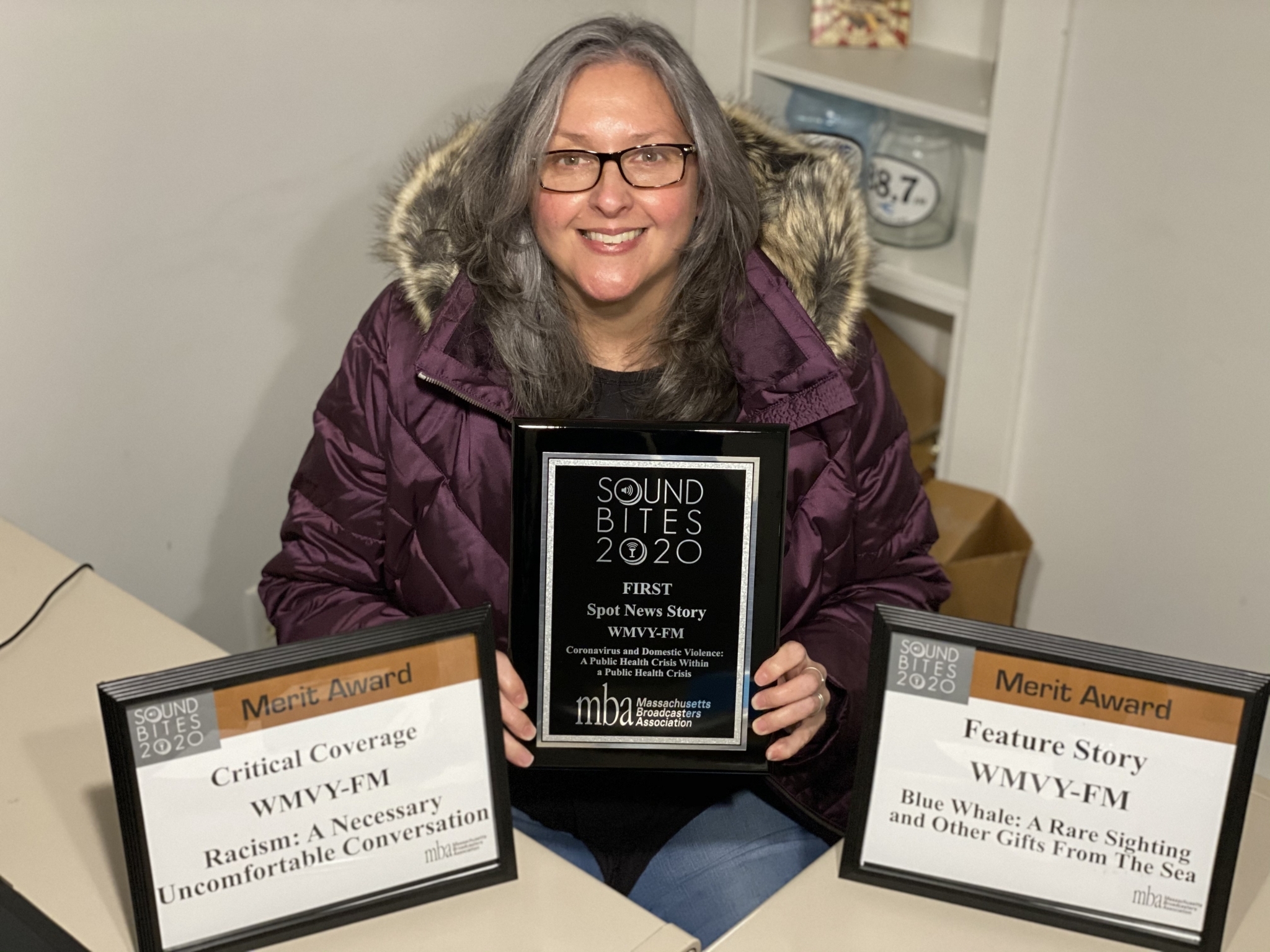 Congratulations to Laurel on winning TWO 2021 Massachusetts Broadcasters Association Awards this year! This marks her SIXTH consecutive award-winning year!

READ THE FULL PRESS RELEASE

If you'd like to learn more about her efforts, read our Community Outreach newsletter. We post it digitally HERE, and you may find it posted around the Island.